Coal Network Update for Friday, August 6, 2021
Operational Performance
BNSF operating teams are addressing ongoing service challenges in several areas of our network. As we have reported, global supply chain disruptions have reduced operational efficiencies at some terminals and facilities. As we respond to strong rail demand in key business segments, particularly intermodal freight, our focus remains on reducing congestion and maximizing resource productivity to move more volume.
The complexities of the current shipping environment as well as wildfire-related re-routes continue to weigh negatively on our service metrics. Overall car velocity was down versus both the prior week as well as the average for July. Terminal dwell increased from the previous week, while our local service compliance measure, which reflects our efficiency in the handling of carload freight, held above 90 percent. As the fall peak shipping season approaches, we continue to seek out collaborative solutions with customers to improve supply chain efficiency and service performance.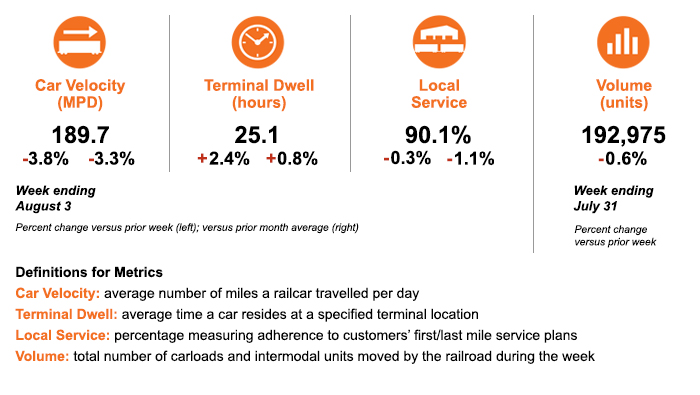 As we have reported, major wildfires in Northern California are impacting rail operations as well as BNSF infrastructure north of Sacramento. The Dixie Fire, which has now burned more than 432,800 acres and is 35% contained, continues to threaten main line track and bridges in the area near Keddie, California. The BNSF command center at Westwood, Calif. was evacuated yesterday as the fire moved quickly toward that location. All personnel were safely relocated, and the center is being reestablished.
In coordination with the California Department of Forestry and Fire Protection, crews have resumed inspections and suppression efforts. While conditions have improved from the overnight hours, the Dixie Fire remains unpredictable, and there is no estimate regarding resumption of service through the area.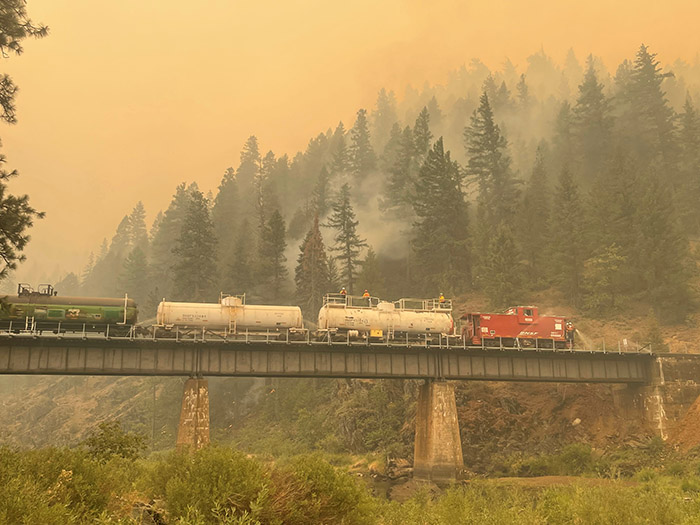 BNSF fire train operating on bridge near Moccasin, Calif.
We continue to re-route affected Pacific Northwest-California rail traffic, which has resulted in longer transit times. On a positive note, a few BNSF trains are now able to utilize an alternate route that has reopened west of the Dixie Fire zone. Most impacted traffic will continue to run on routes further east, and along our Northern and Southern Transcon main lines, until further notice.
Service Expectations for the Week Ahead
The risk for ongoing wildfire activity across the interior West will remain high into the upcoming week. Seasonable conditions are expected across much of the network during next several days, with no significant service interruptions due to weather anticipated at this time.
As always, we thank you for your business and appreciate the opportunity to serve as your transportation service provider. We welcome your feedback and questions.