Automotive Network Update for July 12, 2019
Operational Performance
BNSF has made significant progress this past week in restoring service on our remaining flood-affected subdivisions in the Midwest. The final out-of-service zone of the Hannibal Subdivision, between West Quincy, Mo. and Keokuk, IA, was reopened this past Sunday. We also restored service yesterday on the nearly 10-mile portion of the Brookfield Subdivision near West Quincy.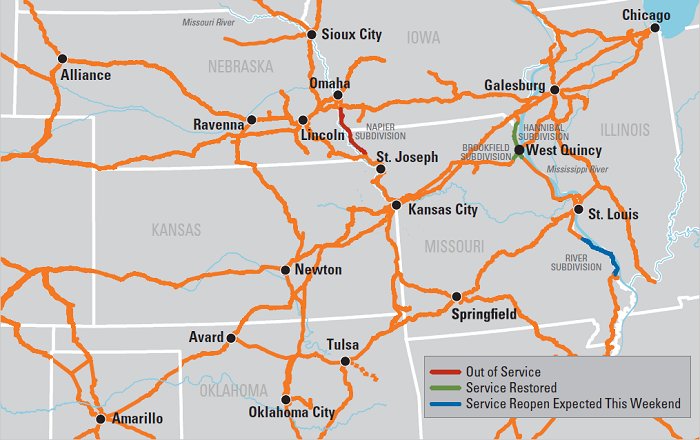 Service is expected to be fully restored on the River Subdivision this weekend. The entire Napier Subdivision between Pacific Junction, Iowa and Napier, Mo., which has been the most severely affected by flooding, is expected to reopen later this month.

We experienced some service challenges this week due to severe weather in southern Nebraska, including a train derailment and multiple track washouts. The derailment occurred early Tuesday morning on the Wymore Subdivision north of Superior, Neb., and the heavy rain from storms also caused a track washout and service outage on the Hastings Subdivision between McCook and Hastings, Neb. Service was restored on the Hastings Subdivision within several hours on Tuesday.

Significant remediation and track restoration work has been required on the Wymore Subdivision, and another round of storms Wednesday morning caused additional washouts on the subdivision. BNSF crews are working as aggressively as possible to complete all necessary repairs. We currently estimate the Wymore Subdivision will return to service late tonight.

Overall velocity for cars and trains were each within a few percentage points of the levels from the prior week. Terminal dwell was reduced versus the previous week and has improved slightly from the average for June. The number of trains holding increased briefly associated with the Independence Day holiday but has been significantly reduced during the past several days. There are several factors, such as an interchange carrier not ready to accept a train or severe weather events, which can result in a train being held and affect normal schedules. Our operating teams are always reviewing the causes of trains holding and seeking ways to lower this number as much as possible.

BNSF engineering teams were called into action following two major earthquakes that occurred in southern California last week. Both earthquakes were centered near Ridgecrest, California, approximately 80 miles northwest of Barstow. With the second earthquake last Friday night measuring more than 7.0 in magnitude, BNSF is required to stop train traffic in the area while all track, signals and structures within 100 miles of the epicenter is inspected. Around two dozen BNSF employees were dispatched across five different subdivisions. Their hard work in completing this major task as expeditiously as possible enabled all service in the area to resume before daybreak Saturday.

With Tropical Storm Barry approaching the Louisiana coast, and expected to become a hurricane during the next 12 hours, customers with shipments designated to move to/from New Orleans and the Louisiana Gulf Coast were advised that BNSF is currently holding all traffic from moving into the area. With the New Orleans interchange gateway likely closed through the weekend, our operations teams are working with other carriers to identify alternate gateways unaffected by this storm to minimize disruptions to interchange traffic as much as possible.

Service Expectations for the Week Ahead
Customers with shipments scheduled to move to/from New Orleans and portions of the Gulf Coast should expect lingering delays and extended transit times into early next week as Tropical Storm Barry moves north through Louisiana. Major flooding is possible in the New Orleans area with expected rainfall totals and the already elevated water levels of the Mississippi River. BNSF is closely monitoring conditions in the region, and we are in communication with other rail carriers as well as local, state and federal emergency personnel.

Major maintenance work continues across multiple areas of the BNSF network during the upcoming week. Some trains may experience delays due to daily work windows in several locations.

Below is a look at the key operational performance categories for the week ending July 11:

Total trains held for the week increased by nearly four percent with an average of 165.3 trains held versus 159.7 trains held during the prior week.
Versus the June 2019 average: up by 15.7%
Versus the July 2018 average: up by 38.4%

Total trains on the system decreased by nearly three percent versus the prior week with an average of 1,497 trains on the system.
Versus the June 2019 average: down by 3.6%
Versus the July 2018 average: down by 5.3%

Car velocity, measured in miles per day (MPD), was essentially unchanged at 189.9 MPD versus 190.2 MPD recorded the prior week.
Versus the June 2019 average: down by 1.9%
Versus the July 2018 average: down by 8.1%

Train velocity, measured in miles per hour (MPH), was down by nearly three percent versus the prior week at 15.4 MPH.
Versus the June 2019 average: down by 2.2%
Versus the July 2018 average: down by 10.7%

Total volume decreased by nearly 12 percent from the prior week with 180,838 units moved in Week 27 (ending July 7, which includes the Independence Day holiday) versus 205,388 units in Week 26 (ending June 29).

Terminal dwell decreased by nearly one percent versus the prior week at 26.4 hours.
Versus the June 2019 average: down by 0.5%
Versus the July 2018 average: up by 1.0%

As always, we thank you for your business and appreciate the opportunity to serve as your transportation service provider. We welcome your feedback and questions.